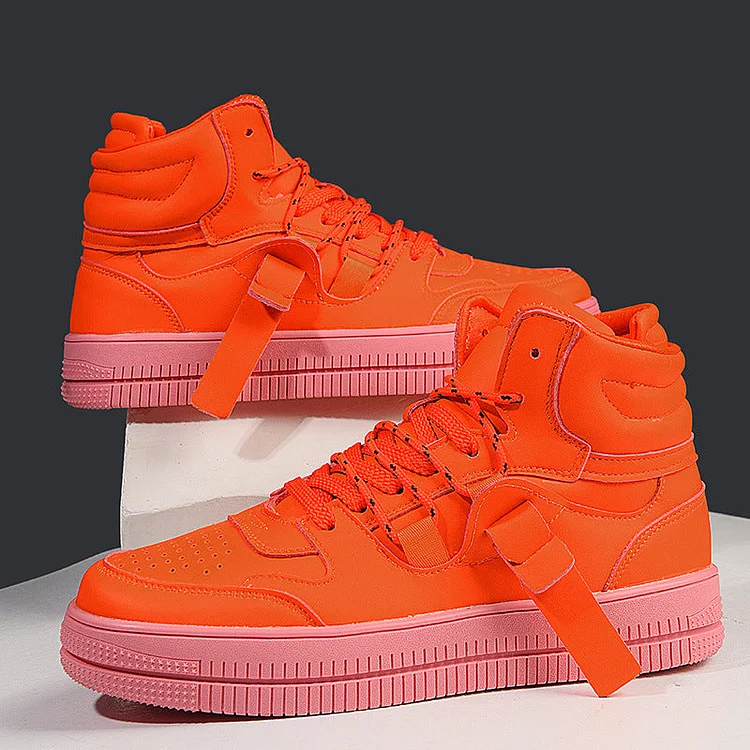 Popular elements: stitching, color blocking
Style: Casual
Pattern: Solid color
Upper material: fly woven
Toe shape: round toe
Heel height: low heel (1-3CM)
Function: wear-resistant
Article number: J187
Upper height: low cut
Sole technology: adhesive
Colors:J187 orange, J187 black, J187 white
Sizes: 39,40,41,42,43,44,
Be Unapologetically You - Own Your Uniqueness
* Add a touch of avant-garde style to your shoe collection with DawFashion's shoes. 
* Our shoes are designed with the latest fashion trends in mind, and are the perfect choice for those who want to make a statement with their footwear. 
* With a unique and distinctive design, our shoes are sure to turn heads wherever you go. 
* Made with high-quality materials, DawFashion's shoes are built to last and provide the perfect balance of style and comfort. 
* Whether you're looking for a casual sneaker or a more formal shoe, we've got you covered. 
* Shop DawFashion's collection of shoes now and experience a new level of fashion-forward footwear.
| | | | | | | | | | | | |
| --- | --- | --- | --- | --- | --- | --- | --- | --- | --- | --- | --- |
| Size |   |   |   |   |   |   |   |   |   |   |   |
| Chinese shoes size |   | 36 | 37 | 38 | 39 | 40 | 41 | 42 | 43 | 44 | 45 |
| Actual shoes size |   | 230 | 235 | 240 | 245 | 250 | 255 | 260 | 265 | 270 | 275 |
| | | | | | | |
| --- | --- | --- | --- | --- | --- | --- |
| US | China | Australia | Europe | Mexico | Japan | UK |
| 5 | 38 | 4.5 | 37.5 |   |   | 4.5 |
| 5.5 | 39 | 5 | 38 |   |   | 5 |
| 6 | 39.5 | 5.5 | 38.5 | 25 | 24 | 5.5 |
| 6.5 | 40 | 6 | 39 |   | 24.5 | 6 |
| 7 | 41 | 6.5 | 40 | 26 | 25 | 6.5 |
| 7.5 |   | 7 | 40.5 |   | 25.5 | 7 |
| 8 | 42 | 7.5 | 41 | 27 |   | 7.5 |
| 8.5 | 43 | 8 | 42 |   | 26 | 8 |
| 9 | 43.5 | 8.5 | 42.5 | 28 | 26.5 | 8.5 |
| 9.5 | 44 | 9 | 43 |   | 27 | 9 |
| 10 | 44.5 | 9.5 | 44 | 29 | 27.5 | 9.5 |
| 10.5 | 45 | 10 | 44.5 |   | 28 | 10 |
| 11 | 46 |   | 45 | 30 | 29 | 10.5 |
| 11.5 |   | 11 | 46.5 |   | 29.5 |   |
| 12 | 47 |   | 46 | 31 | 30 |   |
| 13 | 48.5 | 12 | 47.5 | 32 | 31 |   |